Cocoon Wellness services enable older adults to maintain an active lifestyle!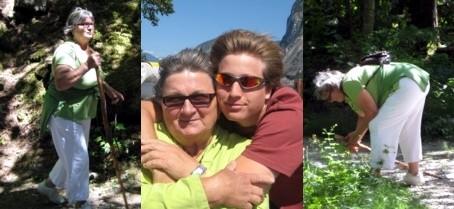 Love and healing touch is important to all of us, but is truly beneficial in the latter stages of life. Massage gives confidence and helps facilitate new leisure activities, attending to strains, minimizing potential injuries.
Bring Cocoon Wellness Home to your elderly loved ones!
Elderly adults typically exhibit dramatic reductions of rapid coordinated movements. Aches and pains, increasing stiffness, and reduced strength can make advancing age seem a weakened, fragile, and vulnerable state. Regular Massage, Body Work and gentle Movement Therapy provides the toning, reassuring and relaxing benefits which will activate one's own body awareness and enables a powerful action of self-healing process. During illness and infirmity, massage is especially supportive, relieving pressures and assisting the circulation.
The benefits of Mobile Senior (Geriatric) Massage are numerous:
in-home, on location services offer convenience whenever-wherever needed
relieves stress, anxiety and the sense of physical isolation
helps preventing old age depression
improves circulation and can prevent complications of diabetes leg ulcers or gangrene
speed up of healing from injury and illness
decreases muscular stiffness
relieves inflammation that may effect the joints
reduces muscular stiffness and relieves arthritis
may prevent muscle deterioration, tendonitis, bursitis
aids various respiratory problems
The psychological benefits of compassionate human touch is especially beneficial for lonely and depressed seniors. A nurturing massage can help provide symptomatic relief.
Why massage is different for seniors and what can you expect during a session?
Massage can be given in almost any setting including the home, long-term care facility, or the hospital. Cocoon Wellness service providers typically see clients in a long-term care facility or in the home. The person receiving the massage can be in bed, receiving treatment on the massage table or be seated upright in a chair or wheelchair.
When mobility is an issue for example the client is bed-bound, the massage therapist will administer massage to the client right on the bed. Practitioners will often spend more time on the hands and feet (if the joints are not inflamed). This can also enhance relaxation, body awareness, sensation and circulation in certain parts of an aging body.
Therapists are aware that an elderly body is more fragile and requires a little extra tender loving care. The following principles are applied:
Massage sessions will range from 30-minutes to an hour.
Each session is tailored to the current health condition and needs of the individual.
Massage strokes are comfortable and soothing to the body, technique involves the application of very gentle gliding strokes, friction, kneading and gentle tapping movements.
Passive or active joint movements are carefully applied.
Pressure is always gentle to prevent adverse effects.
More vigorous forms of massage is not advised.
Please be aware - In some cases massage for seniors is not recommended
Older adults often take a combination of medical prescriptions. This can contraindicate treatment. For example, certain blood thinner medications may increase the risk of bleeding under the skin. An other example is a history of blood clots - new blood clots may become dislodged and travel to the lungs as a result of massage. In order to avoid complications and to ensure that massage can be received safely on regular basis, we often encourage a Medical Doctors approval.
When the following conditions are present massage for seniors is contraindicated:
broken bones or body areas that are inflamed swollen or bruised
open or unhealed bed sores (local contraindication)
pressure directly over varicose veins (local contraindication)
recent surgery or operation
severe acute pain
certain heart conditions
certain kinds of cancer (before or during Radiation Therapy)