iCocoon Stretch Therapy Intro | Weekly Stretching Classes: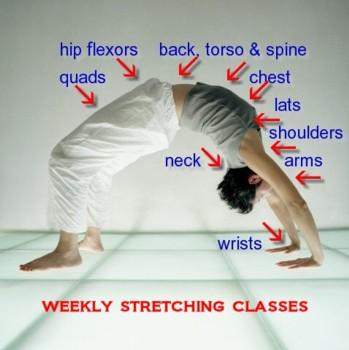 Weekly Stretching Classes are currently available only at Tactix Gym in Vancouver. Everybody is welcome!
The introductory drop-in fee per class is $10 (cash only).
If you have a specific condition please consider booking a one on one iCST-Intro Session prior to attending a class:
Cost: $90 | 60 min *plus 5% GST

Stretching essentials to athletes of all level:
When you are stretching with skillful assistance, your flexibility improves significantly! We will teach you all the tricks to safely perform and assist stretching with equal precision!
These are sixty minute classes.
Join us for learning a fusion of stretching and mobility exercises.
Each class will get you deeper into stretching, opening up your joints and restrictions bringing your previously acquired skills together.
Major muscle groups are actively stretched and mobilized with integrated core stabilization and functional 3D movements.
We are using blocks, bolsters and ropes for easier reach, and work with elastic bands to secure and mobilize joints while stretching.
Stretch techniques may include active isolation and other PNF proprio-neuro-facilitated methods.
Recommended for all fitness levels from beginners to athletes.
Weekly stretching classes will help participants to achieve greater results in a short time.
Stretching and Mobility Classes are offered currently only at Tactix Gym in Vancouver.
If you have questions please email us.
Outline of the weekly Stretching and Mobility Classes:
Warm-up
Exercises performed during these classes are solo partial poses and partner-assisted stretching exercises view basic examples here
During Stretching Classes we are using more advanced forms of posture and flexibility drills, integrated-preventative, restorative and therapeutic forms of exercises. They will focus on the major movements of the spine (flexion, extension and rotation), of the hip joint (extension, flexion and abduction), the latter really being about the quadriceps, hip flexors, hamstrings, buttocks and hip adductor muscles. A wide variety of mobility drills will be continually added to inspire a solid self care and maintenance routine.
About the Instructor
As a Massage practitioner and Stretch Therapist, Giselle Nagy understands the phenomenal complexity of healthy movement patters. Based on her wide range of continual studies and over a decade of hands-on practical experinece, her integrative—therapeutic services have been well-known in Vancouver. iCocoon Stretch Therapy Workshops have been offered at the Crossfit Vancouver School and other Crossfit locations in Vancouver since 2008. Giselle has designed the iCocoon Stretching Program (iCSP) to target sport specific flexibility goals and to establish a solid self-care mobility routine amongst all levels of athletes. The iCSP combines the principles of posture and flexibility (based on Pilates), AiM (3D stretching), Stretch Therapy and self administered Trigger Point Therapy and Myofascial Release techniques. The iCocoon Stretching Program (iCSP) can be customized for individuals or workshops and classes. The iCSP is an outstanding tool for members of any school program or gym anywhere. If you have questions To sign up today please email us.
When:
Sundays at 10-11 AM
Where:
1449 Hornby Street, Vancouver BC