Weekly Stretching Classes
Event
Title:

Weekly Stretching Classes

When:

Sun, June 1. 2014

,

10:00

-

11:00

Where:

Tactix Gym - Vancouver, BC,

Category:
Description
Weekly stretching classes at Crossfit Vancouver: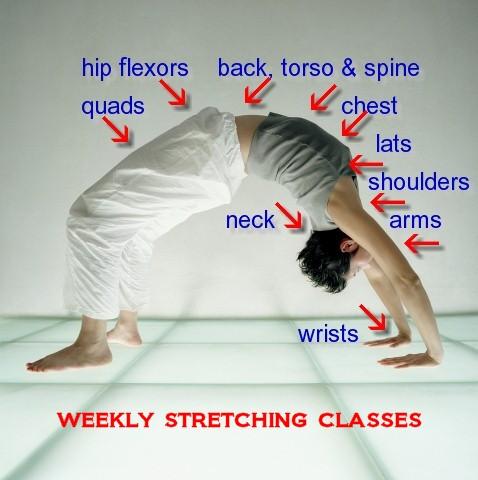 Days:
(No classes in December - starting again in 2012 the week of Jan 4th)
Wednesdays 7-8 PM
Saturdays 12:30-1:30 PM
Cost of One Session or Stretching Passes: (expire two months from purchase date)
One Session: $20 |*30 non-CF members
Stretching Pass Four: $70 |*100
Stretching Pass Ten: $130 |*200
iCST-Intro Private: $60 |*80
Fees are subject to 12% HST.
Instructor: Giselle Nagy, Stretch Therapist (Cocoon Wellness)
Stretching essentials to functional movements...
In simple school gymnastics - The Bridge - is a versatile exercise that requires flexibility through the entire front line of the body, equally challenging every single muscle of the back as well.
During the Weekly Stretching Classes we will focus on The Bridge - it will be our project, our goal, if you will—something to work on to be able to perform with an ease by the end of this year.
We are giving the weekly Stretching Classes a theme, because for most people having a goal to work towards and being able to measure the improvement is helpful. It simply works. So instead of saying we are going to work on the upper or lower body in classes, we will start with basic stretches to work our way through bending backwards with coordination and confidence which will include all of the body parts marked on the picture above.
Starting Wednesday, October 19th you will be able to attend Stretching Classes 2x/week. Please note, it's a pre-requisite to attend the iCocoon Stretch Therapy Intro within one year from your first class day.

FAQs:

Q. Why is there a pre-requisite for the weekly stretching classes?
We would like to utilize our 60 minute time in class by focusing on learning new exercises which require a solid understanding of the PNF method, proper form and execution based on the instructions provided during the iCST-Intro. This will ensure that everybody is familiar with the principles of Stretch Therapy and PNF the method.
Q. What happens if I can't make it to the iCST-Intro?
You are welcome to book a 60 min one-on-one appointment with Giselle to make up for and learn the iCST-Intro material.
You may repeat the iCST-Intro any time offered at any location for as little as $30.
Important details:
1. In order to truly warm up your muscles, it is highly recommended to attend the WOD prior to each stretch class. This will save us time to work instead of warm up in class. Have a light snack to stay sharp and drink plenty of water to continuously hydrate your muscles.
2. Be sure to dry your body and change to a separate set of dry clothing to retain your body temperature. Muscles are simply more pliable when warmed up.
Questions? Reply here or contact Giselle today at 604-788-5432
We hope to see you there! Bring a friend!
---
Venue
Location:
Street:

1449 Hornby St, Vancouver, BC

ZIP:

V6Z 1W8

City:

Vancouver, BC